There was a time, a few months ago, when Team MM got very excited about an upcoming film. That film was called Killer Elite, and the trailer made it look like the most exciting film of the year. It featured Jason Statham, a much-beloved actor in precisely the kind of films Team MM likes to go and see, facing off against Clive Owen, a very well-respected actor in his own right. On top of that, Robert De fucking Niro was in the film, there seemed to be a lot of action, and the whole thing was topped off with Rock You Like a Hurricane by the Scorpions. We were hyped for that film like you would not believe.
Sadly, when we saw it, it turned out to be two hours of long, contemplative scenes set in England in the early 1980s. Action scenes were few and far between. We've been betrayed by film trailers before, but not like that. The trouble with Team MM is that each of us has a beautiful dreaming heart, and with each new exciting film trailer we let ourselves get swept along on a wave of blossoming excitement at the promise of the ultimate film experience. 
So essentially, Jason Statham really let us down. The man who took three Transporter films and two Crank films to dizzying heights of glorious violence had failed in his one task. Andy was so hurt by this that he refused to attend today's film, Jason Statham's latest outing. Team MM was wary, wary like a young girl who has been badly hurt by love before and is scared of opening her heart up again for fear of more emotional pain.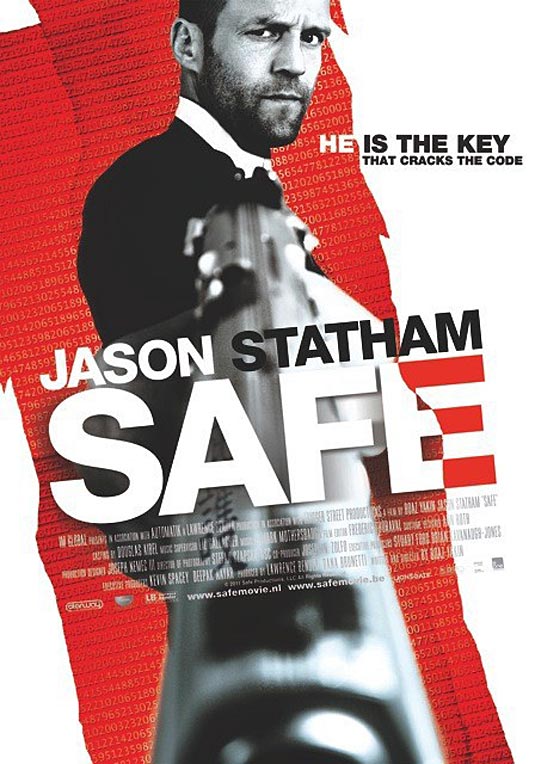 So in Safe, as it turns out, Jason Statham is New York city's toughest, most violent cop. His accent is complete bullshit. But seemingly he's stopped being a cop, and has a new career as an MMA cage fighter, the kind who is forced to throw fights at the behest of his criminal overlords. I don't know how he went from being an awesome cop to being an MMA fighter in the pocket of the mob. It may have been explained at some point.
So anyway, Statham is such a fucking hard bastard and is so amazing at being an MMA fighter, that he accidentally kills a rival fighter that he was supposed to lose to, and as the film opens, his wife - never shown on screen - is brutally murdered by some Russian villains, who then tell him that he is not allowed any friends, and if he even shares the slightest fistbump with a stranger on the street, that stranger will be murdered by one of the goons who is always watching him. If he clicks 'Like' on someone's Facebook post, that person will have their throat slit. If he even logs into MySpace, all his friends will be slaughtered.
Harsh stuff! Jason Statham is so bummed out that he spends the next year being a penniless drifter and living in churches and stuff. You might think this is a bad move, but it's all just to give him some drive later on to brutally kill people, so it's more of a long-game situation.
MEANWHILE, IN CHINA! There's this little girl, right, who is a total genius. She's amazing at maths - which is racist - and when the local Chinese criminal gangs get wind of this, they snatch her up and set her to work being a sort of human financial ledger. This obviously is way better than a computer, because, as David Lo Pan from Big Trouble in Little China says, computers leave a trail. Computers may leave a trail, but little girls need My Little Ponys and stuff. Come on. Is a little girl really a safer bet than hiring some sort of computer expert? Anyway, never mind.
So the little girl gets shipped off to New York, where she is kidnapped by some Russians - you'll never believe this, but they're the same Russians that Jason Statham has beef with. Jason Statham is even getting a tough time of it from the local constabulary - it turns out, the coppers in New York are completely corrupt, and they're well aware of the whole situation where he lives in a gutter being miserable, and they LAUGH ABOUT IT. What bastards. I mean I hope they get some sort of comeuppance at some point. It'd be a rough deal if they didn't!
Suddenly, the paths of Jason Statham and the little girl happen, shockingly, to intersect. Jason Statham sees that some ne'erdowells are after this little girl because she's the only one who can remember their GMail passwords, and all he has to do is put two and two together and he realises that two plus two in this case equals brutally beating some men to death. It's on!
For basically the next hour and a half, every scene Jason Statham is in, he murders someone and then anyone standing next to them that looks like they might have been in the same gang. He seems to basically say "FUCK being homeless, I'm going to beat some people up", gets himself a nice suit, and starts breaking bones.
Jason Statham kills SO MANY PEOPLE in this film. New York City no longer has a Chinatown. Because the Russians and the Chinese and the corrupt coppers are all trying to get to this little girl, anyone who looks like they might be Russian or Chinese tends to get shot a lot. We're pretty sure that a few of the random Chinese guys who got shot to death were just random passers-by. There's one amazing bit where a Chinese mobster clears out a restaurant of people, and as they're all leaving says EVERYONE GET OUT OF HERE NOW, OR YOU WILL BE KILLED - LIKE THIS GUY! and shoots someone out of the crowd completely at random. God, it was glorious.
At around this point, we get some more backstory on Jason Statham - it turns out, he wasn't just a cop, he was a cop whose job it was to quietly murder criminals to make the city a safer place. This sounds like something they should REALLY consider making a prequel about.
Suddenly, at the minus-ten-minutes mark, an evil banker shows up for a final confrontation, which confused the shit out of me, because I don't remember him being in the film up until this point. He's some sort of guy who's behind everything, for some reason. They both put down their guns and we, the audience, knows we are going to see a knock-down, drag-out bout of fisticuffs - until the little Chinese girl is all like, WHAT THE FUCK ARE YOU DOING and shoots him in the legs. Oh, we laughed so hard. Jason Statham then shoots him ten times, just to be sure.
Blah blah denouement blah blah Jason Statham takes care of her for the rest of her life blah blah blah!
Oh it's my SCALE Scale, don't you forget!
S - Story: 8. You can't fault it.
C - Comedy: 9: Really there are quite a lot of comedy moments in this film.
A - Awesomeness: 10! SO MUCH FUCKING VIOLENCE.
L - Ladies: 1. I don't think there are actually any female characters in this film aside from the little girl, who is a little girl. There might be some gangsters' molls and stuff but they are just window dressing.
E - Et Cetera: 10. Jason Statham has punched, kicked and shot his way back into our hearts. 
-Nick